Thanks to advances in smartphone technology, we all have video players in our pockets. Whether you share an impactful story or quality information, providing perspective videos has become an ideal way to communicate with audiences at scale. However, if your medical practice invests in video communications, figuring out what people will watch can be challenging. That's why we've put together eight creative and effective ways healthcare providers might best use video.
1. Testimonials
Testimonials are almost always the first video we recommend to any business. Stories are powerful communication tools, but stories from people that can relate to the end-user — or in your case, a patient — perform best. Ask a satisfied patient to donate their time for your testimonial video. If you genuinely impacted their life, they're likely happy to help.
After interviewing your patient, create B-roll (supplemental video) to help paint their story. Good B-roll for a testimonial would include the services being administered in their story and shots of the patient with your staff.
2. Services
Most patients didn't attend medical school, so you can understand how healthcare can be confusing and sometimes scary. Put their mind at ease by documenting the multiple services you provide. When a patient has a question about one of your services, that video can be an excellent tool to help them understand and appreciate it.
This is especially helpful when introducing a new service or a new method of providing an existing service. These videos will save your staff time explaining the service and help set the patient's expectations of what they'll experience.
In these videos, try to answer three things: who will need this service, why they'll need it, and how it is provided. This will give the patient a better understanding and improve their patient experience.
3. Tours
Speaking of your patients' expectations, consider creating a video tour of your office. It is common for patients to fear a facility that they're unfamiliar with. By helping them visualize what their experience will be even before they arrive at your location, you can help put those fears aside.
A video tour doesn't need a narrator like this one from The Emergency Clinic. Simple walkthrough footage from different areas of your practice and text can also work.
4. Staff Interviews
Patients want to know that the people treating them are trustworthy and personable. Build trust with your patients by introducing them to the staff members who will see them and be helping them.
Sit-down interviews like this are great, but a video that shows your staff member's day-to-day can connect to your audience better. Why not make a day-in-the-life video of some of your best employees?
5. Tips and Recommendations
With as much schooling as your staff has been through, healthcare providers are some of the best-educated team members in the country. Leverage their expertise to create helpful videos for prospective patients.
These types of videos don't require a physician or practitioner in front of the camera, but they will increase your video's credibility and interest. Talk to your staff and find out if anyone would like to volunteer to answer questions or provide insight for your video.
6. Next Steps/Instructional Videos
The patient experience doesn't end at discharge. Videos can be a great follow-up tool for your patients. Use a follow-up email to link them to a video communicating their next steps or including directions to help their recovery process.
Make these videos short and to the point. If you want your patients to follow directions at home, make it as simple and straightforward as possible.
7. Community Events
Patients typically respect organizations that share their values. Community events are an effective way for healthcare providers to communicate that they value the community. Find a way to get involved and document it with video.
65k+ runners from around the world participated in @WaltDisneyWorld Marathon Weekend. 1,100+ AdventHealth Medical Volunteers worked 2,200+ shifts supporting runners along the course & the finish line. We've been the Official Medical Provider for @RunDisney for more than 20 years. pic.twitter.com/2yleajPLNT

— AdventHealth (@AdventHealth) January 30, 2020
If you struggle to find a suitable local event, attend a local school and get involved with their sports team. A school sporting event can make for some entertaining videos.
8. Lobby Media
Enhance the aesthetics of your waiting room with a custom video on repeat. Your lobby's atmosphere can easily be adjusted using the right images, graphics, and text. Most patients in waiting rooms will be on their phones, so you can keep these lobby videos simple and short.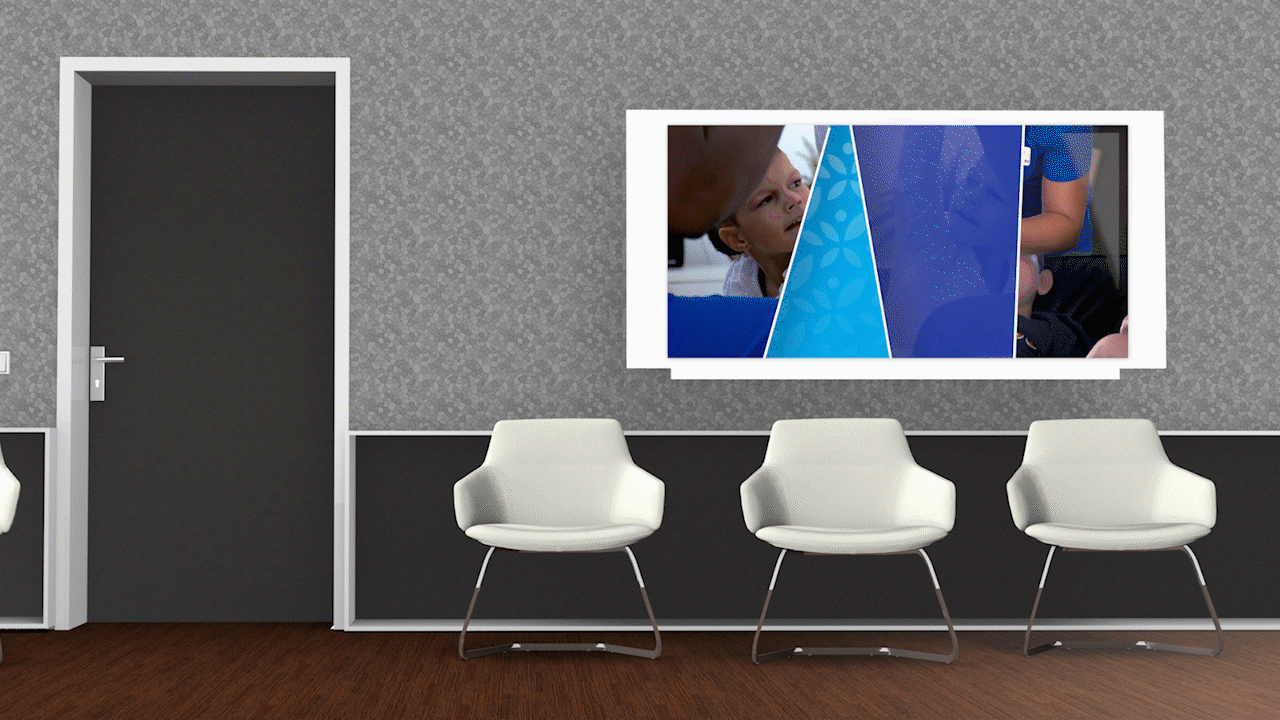 If you haven't created your own video yet, a looping video of a waterfall or a beach scene can improve the waiting room experience. Find out what speaks to your patients — whether it's a crackling fire during the holidays or a breezy palm tree — and implement it as a video.
Video Quality
Let these ideas inspire you to create more videos for your practice. While you may feel pressured to provide expert-level quality, it's ok if the videos at least match the size of your organization. A 10-person office might get away with capturing some of these videos from a smartphone, but a multi-location hospital network should be hiring professional help.