Social media has changed the way to do business. By being active on Facebook, you have a platform where you can market your goods or services, address questions and concerns posted by clients, thank them for stellar reviews, and track readership and engagement. But is there a specific time that's ideal for scheduling posts? Does a particular time of day give you a competitive advantage?
It turns out that there is no one-size-fits-all tactic. There are several factors that you should consider before deciding when to post.
3 Things To Consider When Strategizing Social Media Posts
1. When are you open for business?
If you're a seasonal business — like a Halloween store — it's likely that you'll be doing most of your posting in October when your content is relevant and likely to get the most attention. In addition, if you are open during regular business hours, you want to avoid posting in the evenings or late at night. Although there is no rule restricting posts exclusively to business hours, it would be beneficial to post more frequently when you are open, so your audience can do business with you when they see your post.
2. When is your target market online?
You can look at when your fans are online via Facebook. To do so:
Go to your Facebook page > Insights > Posts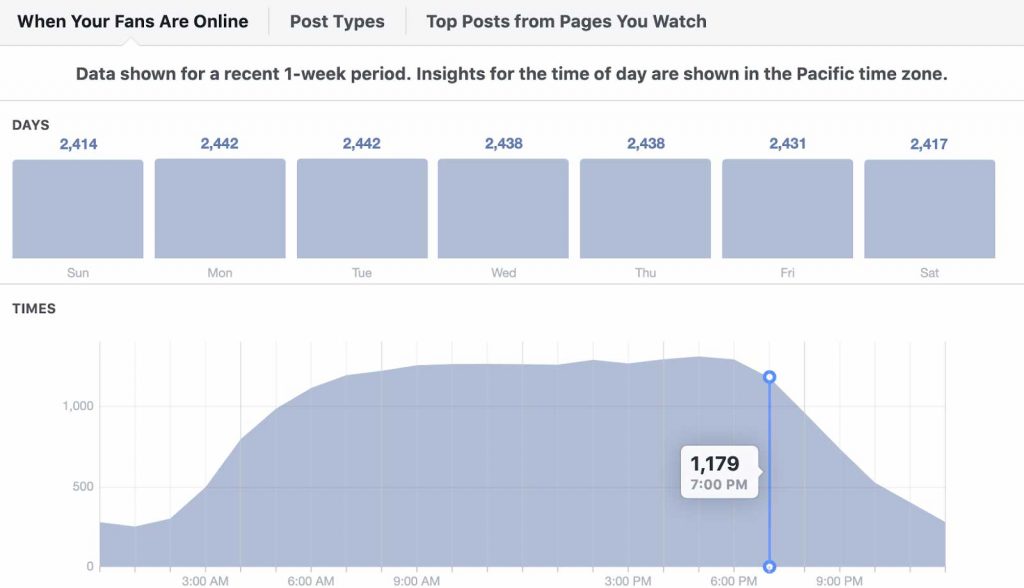 In this example, you'll see that posting after 7:00 p.m. would be wasteful and that there is a slight peak in activity in the afternoon. By looking at this graph, one can determine that posting anytime between 8:00 a.m. and 6:00 p.m. would get a healthy reach, and posting later in the day might get slightly better immediate engagement.
3. What does industry data say?
Third-party scheduling platforms have the advantage of researching the activity of posts shared on Facebook through their app. You'll notice a lot of the data can seem conflicting or unspecific. Don't take their recommendations as golden, but use them to have extra confidence whenever you plan to post for your business.
In addition, there are external resources that offer their own recommendations. According to Hootsuite, the best time to post on social media is between 9 a.m. and 2 p.m. EST during the workweek (e.g., Tuesday, Wednesday, or Thursday).
Meanwhile, according to Sprout Social's data, the best time to post is on Wednesdays, between 11 a.m. and 2 p.m. In addition, Sprout Social also says that the typical business week for most healthcare practices features some of the most reliable times for engagement — particularly from Monday through Friday, from 9 a.m. to 3:00 p.m.
Hubspot states that, on average, the best time to post across industries is 9 a.m., when people are just starting work and going online for the first time.
These resources provide different recommendations regarding when to share new content on Facebook. However, the common denominator is to do it during the work week.
Posting at the right time won't make or break your business, but studying how your audience likes to interact with your online platforms can help you engage with them better — which customers tend to appreciate. That said, the timing of your posts doesn't matter as much as the strategy and purpose behind those posts.