The World Wide Web has become a cooking pot of information. That's why it's essential that users can find what they need easily. But not every user digests information the same. For example, those who are visually impaired use voice readers to listen to the content on the page. This — among other reasons — are why options like alt text are so important. But what is alt text, exactly? And how can you add it to new and existing content on social media?
What is alt text?
Alt text (alternative text) is used in HTML code to describe an image. Its primary role in social media is to make your images more accessible. This occurs in two main ways:
Accessible for the Low-Vision Community
Alt text has a major role in making social media a friendly space for people who are blind and low-vision, as they are mostly browsing with the help of audio, and the alt-text helps narrate the visual experience of social media. If these two accessibility points are important for your brand, we highly suggest writing your own alt text as a common practice.
Accessible for Search Engines
Since Google's crawlers can't see an image like a human can, alt text helps Google understand the image. Alt text provides additional context to an image that allows Google to index and rank the image appropriately in Google Images search results. Adding keyword-optimized alt text can help improve your rankings and bring more traffic to your website.
How To Write Alt Text For Images
Writing alt text on social media is much simpler than you think. Imagine that you're describing the image to someone that can't see it in one or two sentences. Keep keywords in mind, but don't stuff it with keywords. Your alt text should read as a description, so avoid phrases that include photo of or graphic of. What does that look like in practice? Some examples include: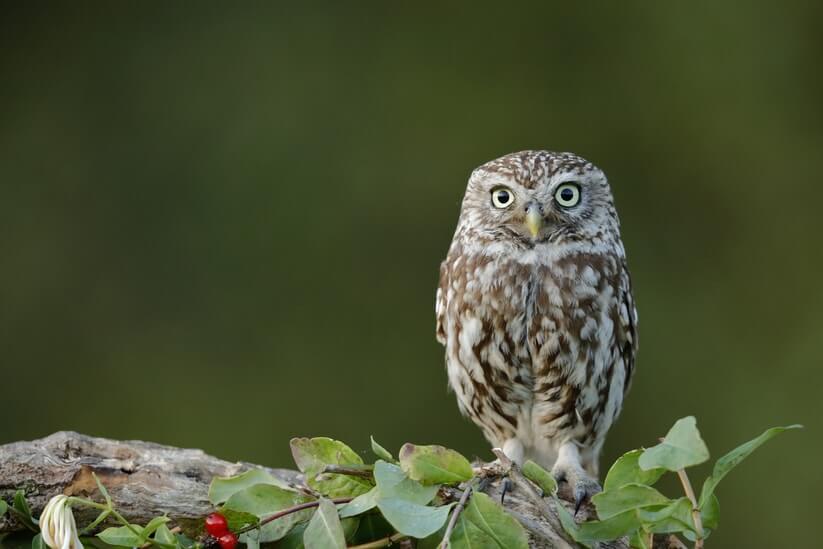 Okay: Bird
Better: Little owl
Best: Little owl sitting on a branch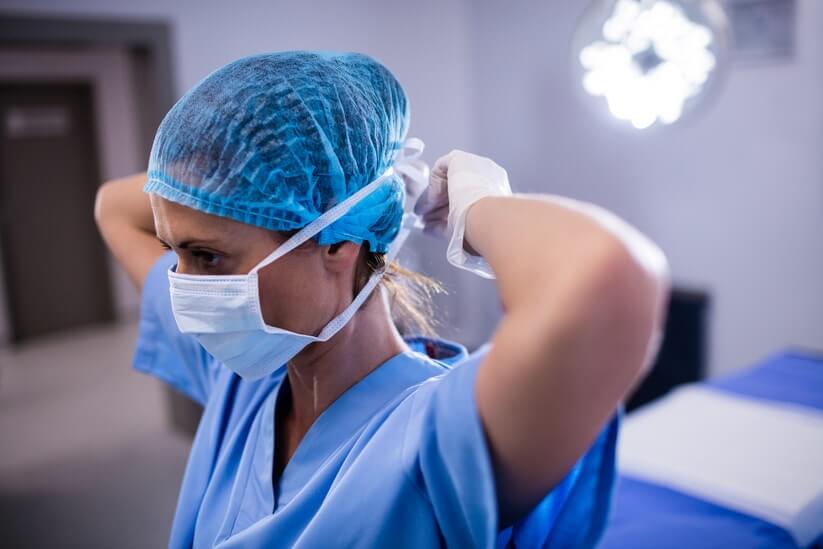 Okay: Nurse
Better: Nurse tying on mask
Best: Female nurse tying her surgical mask in operation theater at a hospital
If you're posting your social media through a third-party scheduler, it is common practice that they allow you to edit the alt text when posting. Otherwise, here is how you can edit alt text on the big image-sharing social media platforms:
How To Add Alt Text to Facebook Images
Facebook has an automatic alt text feature that uses technology to help determine the appropriate alt text for your images. But it isn't perfect. There are two ways to edit alt text on Facebook.
1. Before you post the photo, click Edit Photo and choose the Alt Text option to change the alt text. It will show you the auto-generated text and allow you to input your own. This feature appears to be only accessible through the desktop version.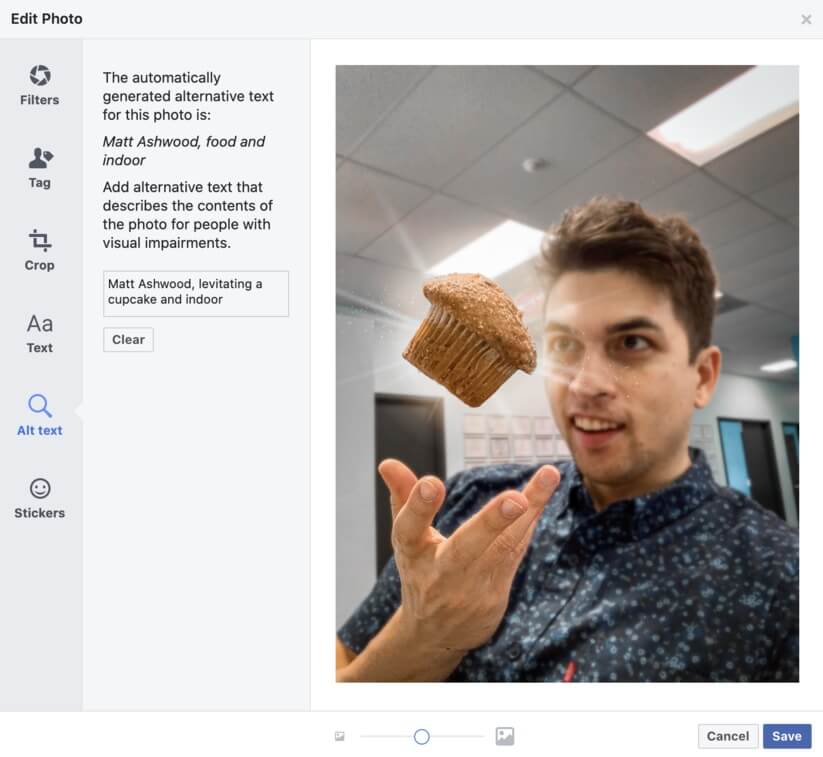 2. To edit an existing photo, click the options button to open a menu that reveals an option to Change Alt Text. This feature is also only available on desktop versions.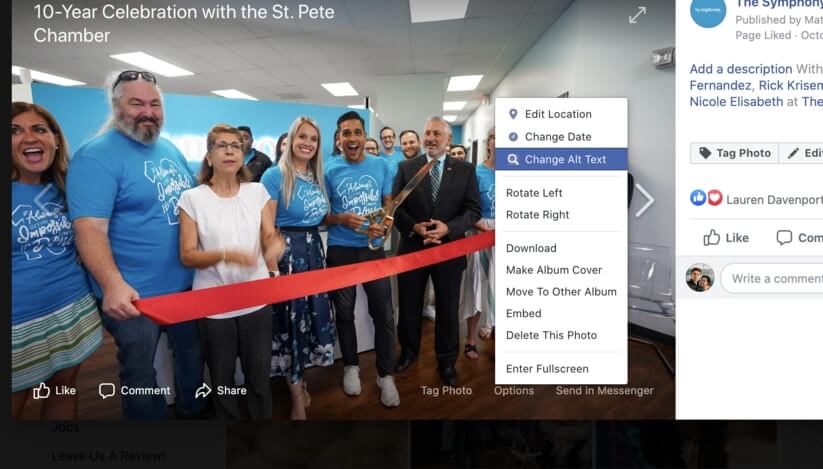 How To Add Alt Text to Twitter Images
Twitter doesn't allow you to edit existing tweets, so you'll have to edit your alt text before you share them. While composing a tweet with an image on the app or desktop version, click Edit Photo to access the option to Write Alt Text or ALT. Twitter will ask you to describe the photo, and this description will become the image's alt text.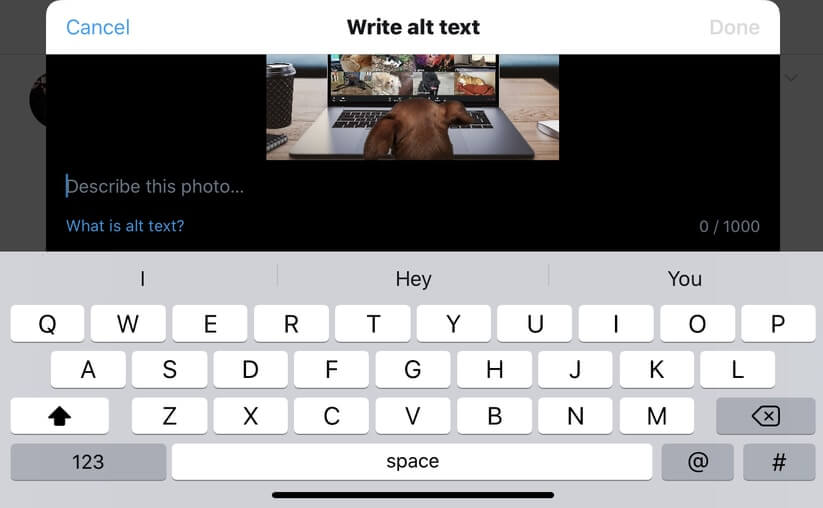 How To Add Alt Text to Instagram Images
To edit the alt text before posting the photo, on the final edit screen, and before you click Share, click Advanced Settings to access the ability to Write Alt Text. Enter your new alt text and click Done at the top right of the screen when complete. If you skip editing this alt text, Instagram will use technology to generate one automatically, but its accuracy can be unpredictable.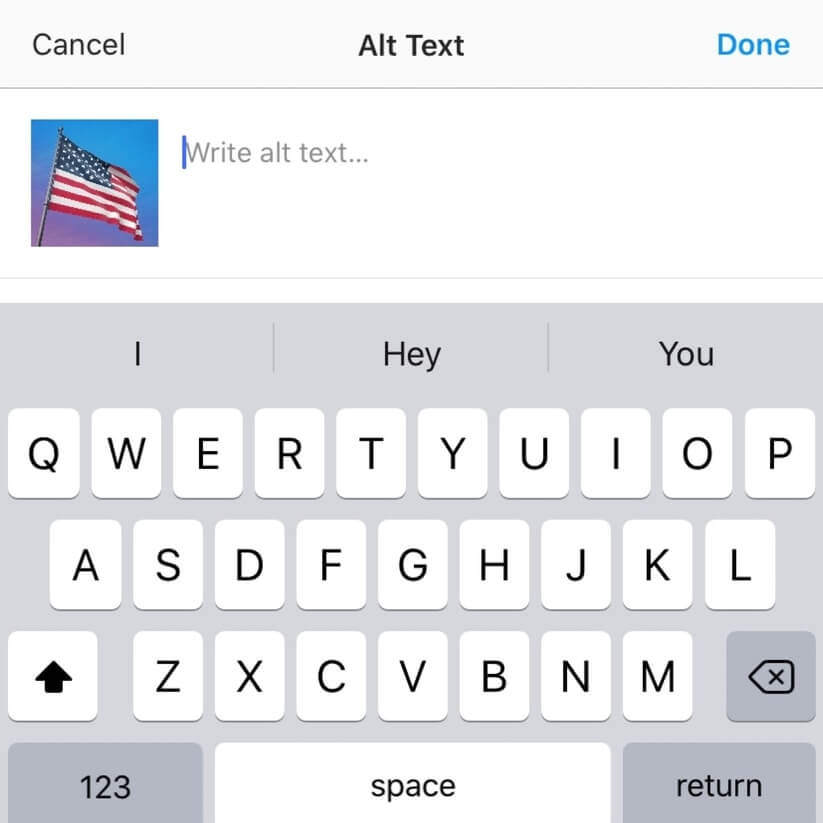 If you forget or need to edit an existing photo while in the Instagram app, open the image you wish to edit and click the three dots (•••) in the right corner above the image. Click the Edit option that appears in the menu, and you should see an Edit Alt Text button at the bottom right of the image. Enter your new alt text and click Done at the top right of the screen when complete.

How To Add Alt Text to LinkedIn Images
LinkedIn makes it very simple to add alt text to your images. Although, you can only edit alt text on their desktop version currently. To edit the alt text before you post a photo, select the photo you want to share. An Add Alt Text button appears over your image. Enter your alt text and click Save when complete.
To edit an existing photo, click the three dots (•••) above the LinkedIn update you want to edit, then click Edit Update. The edit alt text option will appear over your image. Enter your new alt text and click Save when complete.